Hatsumi Sensei

Submitted by

gkarak

on Thu, 10/10/2013 - 16:25
Forget your sadness, anger, grudges, and hatred. Let them pass like smoke caught in the breeze. You should not deviate from the path of righteousness; you should lead a life worthy of a man. Don't be possessed by greed, luxury, or your ego. You should accept sorrows, sadness and hatred as they are, and consider them a chance for trial given to you by the powers... a blessing given by nature. Have both your mind and your time fully engaged in budo, and have your mind deeply set on bujutsu.
Hatsumi Sensei
Bujinkan Ryu-ha
Togakure Ryû Ninpô Happô Biken, 34th Grandmaster
Gyokko Ryû Kosshijutsu Happô Biken, 28th Grandmaster
Kotô Ryû Koppôjutsu Happô Biken, 18th Grandmaster
Shinden Fudô Ryû Daken Taijutsu Happô Biken, 26th Grandmaster
Kukishin Ryû Taijutsu Happô Biken, 28th Grandmaster
Takagiyôshin Ryû Jûtaijutsu Happô Biken, 17th Grandmaster
Kumogakure Ryû Ninpô Happô Biken, 14th Grandmaster
Gyokushin Ryû Ninpô Happô Biken, 21st Grandmaster
Gikan Ryû Koppôjutsu Happô Biken, 15th Grandmaster
The Bujinkan Dôjô
Sôke: Masaaki Hatsumi Title: Hisamune
636 Noda, Noda-shi, Chiba-ken 278 Japan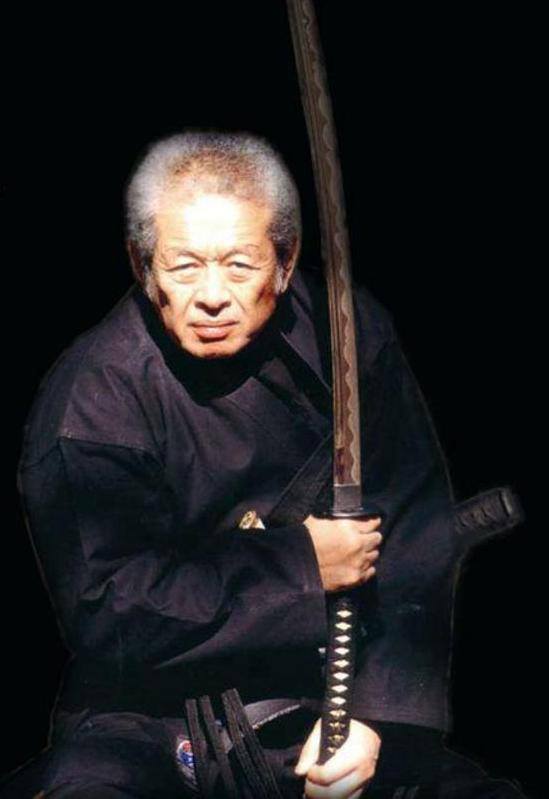 Dr. Hatsumi Masaaki (初見良昭)?  is the founder of Bujinkan and heir of the 9 traditions of Bugeei (Budo) και Ninjutsu (Ninpo) that are taught in Bujinkan.
He was born in Noda City of Chiba Province on December 2, 1931. He began martial arts at the age of 7 under the instruction of his father.
As a young boy he trained himself extensively in unarmed and armed combat. He particularly loved the bokken (wooden sword) of his father, which had been one of the main incentives for him to get zealously involved into martial arts. Growing up he studied several Japanese martial arts, including Judo, Zen Bei Butoku-Kai Karate, Kendo, Aikido and western-style boxing. At the age of 20 he was awarded the fourth Dan in Judo, something which was extremely rare for a young student in Japan, and this shows his appreciation and dedication to training.
Masaaki Hatsumi graduated from Meiji University of Tokio. He studied osteopathic medicine (bone medicine) and at the same time he undertook theatrical studies, studying hard for his academic education. After his graduation, he opened a clinic in his hometown, which he held until 1990 as the other occupations took most of his time.
Hatsumi Sensei considered that the martial arts of his youth had been much oriented towards sport, rather than practical self-defence. For a few years during his studies he suspended his training into martial arts, and then came back looking for something different. This he found in Takamatsu Sensei. Masaaki Hatsumi had been approximately 26 years old. He stayed with Takamatsu Sensei for the last 15 years of his teacher's life.
Takamatsu Sensei taught to Hatsumi Sensei the 9 traditions and named him successor by handing the historical documents (Densho). Shortly after Hatsumi Sensei will establish Bujinkan Dojo, where these traditions are tought to this day.
Masaaki Hatsumi is author of many books and texts. He has published numerous articles to magazines and newspapers both in Japan and abroad. He has been involved as consultant in a large number of film and television projects especially in Japan. He has served as President of Japan Writers Association. His basic concern has always been to maintain the historical integrity of references made in Ninjutsu and Ninja.
Hatsumi Sensei has been awarded many times for his contributions to martial arts and many accolades and titles have been awarded to him, including honorary chairs in US University institutions, the title of 'Texas Ranger', Knight in Germany, as well as an honorary citizen of many states in the USA and Europe. Last, Hatsumi Sensei has a special interest in arts, and himself paints and plays the guitar.